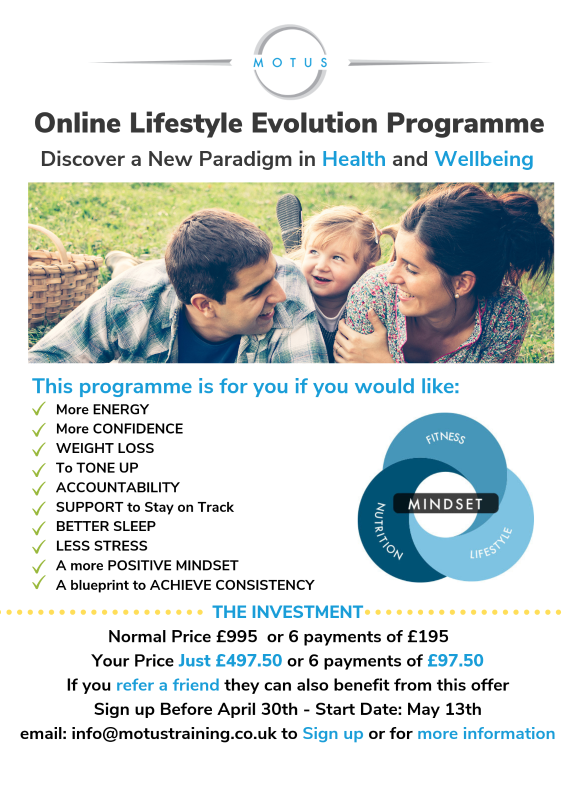 Hi all,
I have some exciting news to share with you today
It's about something we've been working on for a while now...
In May, we will be launching our
BRAND NEW PROGRAMME
- our first
DELIVERED 100% ONLINE
You're probably thinking: "How does that work?"
Let me tell you how it came about:
We've been delivering Wellbeing Programmes to businesses for a few years now
One of them is in a group format where we have a monthly workshop
focusing on a different aspect of Health/Lifestyle
- what we consider to be some of the foundational principles - like
stress, sleep, nutrition
, etc.
After each session there are quick assignments to build awareness and form new habits - it's all about creating long-term, lasting changes
Then we also run a kind of "support group" in between using our app to help keep each other motivated and accountable and where people can ask for our advice on any specific questions they have
They've worked incredibly well as they strike a nice balance between
education, support, accountability
and allowing people to
make changes at their own pace
The results people have achieved have been excellent and here is some of the feedback:
"I eat better, sleep better, wake up happier and feel more confident in my body"
"the results have been more amazing than I ever could have imagined"
"It sounds like a big thing to say, but this really has transformed my life"
Not only does it get great results, but we really enjoy delivering the courses this way, so I thought:
"how can we open this up so more people can access it?"
I've personally been on various courses delivered remotely over the last couple of years, both for personal and business development, and also for research: to find out what works in that format
So the result is this:
The Motus Lifestyle Evolution Programme
We're taking the format of the programmes I mentioned, but
delivering them via a series of live webinars
(They'll be recorded too if you can't make them)
So if you would like to
lose weight, improve your health, re-balance your lifestyle, build your confidence or have more energy
, but don't want to go down the standard routes of joining a gym or doing a diet, then
this could be for you
Perhaps you've tried other things and they've not worked out?
Perhaps you don't have the time for the usual methods?
Or maybe you want something
above and beyond a one-dimensional weight loss/fitness programme, that improves your life as a whole, in the long-term?
It's a 6 month Programme and the cost is £995 (you can pay in installments if you prefer) but as it's our very first one I'd like to make you an offer:
If you like the sound of this and sign up before the end of April, you can
take 50% off, so you pay just £497.50
Interested?
Send us an email to info@motustraining.co.uk
Thanks,
Darren