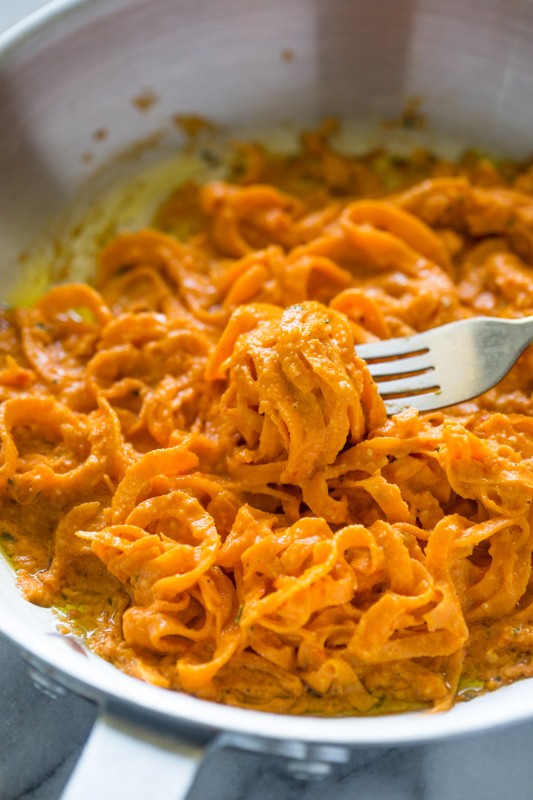 Sweet Potato Linguine with a Bacon, Tomato and Artichoke sauce
Sweet Potato Linguine:
Using a "spiraliser", place the sweet potato on the centre spike, push the handle down to secure it and gently turn the handle. As you turned the sweet potato will be transformed into long strands.
Ingredients:
250g Sweet Potato Linguine
4 Rashers of back bacon (smoked or unsmoked)
1/2 Red Onion, finely chopped
1 Clove of garlic - crushed
30g Sunblush Tomatoes, roughly chopped
30g Green Olives, roughly chopped
60g Marinated Artichokes, roughly chopped
1 tsp salted capers, rinsed well
200g Passata
1 tsp Dried Oregano
1 tbsp Flat Leaf Parsley, roughly chopped
Black pepper
Parmesan shaving - optional to serve
Preparation Method:
Cut the bacon into thin strips
Heat the large non stick frying pan and fry the bacon until it is crisp, adding the onion mid-way through cooking.
Add the garlic and fry briefly
Add the tomatoes, olives, artichokes, capers and passata to the pan and simmer for a few minutes
Grind in some black pepper - check the seasoning, this dish shouldn't need extra salt as the bacon, capers and olives are naturally salty
Add the sweet potato linguine to the pan and coat with the sauce. It is easier to use two forks to avoid clumping
Keep the pan on a low heat for a few minutes to allow the linguine to heat through
Stir in the chopped parsley and divide between two warmed bowls
Serve with parmesan shavings if required.