Anna Ogilvie
Business Manager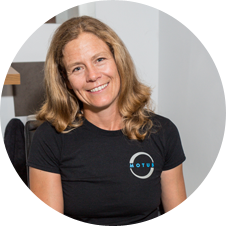 Business Manager

I am Darren's 'better half'!

I started to take a more active role in Motus whilst pregnant with our daughter, Lucia, who is now two years old.

When I am not helping out at Motus, I run my own business as a riding instructor and 'Horsefinder': helping people find their dream horse. I have always been a keen rider - and runner - and also spent years counting calories and trying to keep fit.

Thanks to Darren's advice, I now ignore calories and eat lots of good fat and I am now the leanest and lightest I have ever been! I train twice a week with David Shadlock (many thanks to David who has transformed my 'baby body' back to what it was before I had Lucia).

All this motivates me to help share the Motus secret by doing the administration, social media, marketing and networking in the background, allowing our trainers to focus on client based time.

Seeing our clients change in body, mind and spirit helps with my own self development and self worth, so thank you everyone and keep up the good work!