Darren Putt
Owner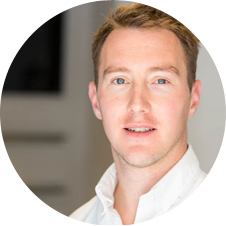 I founded Motus Training in 2007 and have worked in this industry for over 12 years. I now live in a farmhouse right next to the studio with my fiancee, Anna, and daughters, Lucia and Indigo.
Most of you will have an image in your head of what a Personal Trainer might be like. I certainly do not fit the "Personal Trainer" stereotype - far from it! Whilst I enjoy playing sports and being active, most of the time, if I am honest, I do not really enjoy the training and I struggle with motivation by myself. I also do particularly enjoy indulgent, rich food ,both at home and at nice restaurants ... and red wine!
I firmly believe that, for most of us, a lifestyle is there to be enjoyed: we should not be constantly "dieting" and feeling hungry, deprived or depressed and that food can remain a pleasure and be nutritious and tasty at the same time. My passion is showing people how you can do this AND achieve a body shape you are happy with PLUS any fitness goals you have.
My life and career was almost very different from how it has turned out. My personal relationship with fitness, health and my own body has, in many ways, been similar to many of our clients. Throughout my teens and early 20s, I played and enjoyed lot of sports and I considered myself to be fit and healthy. At university, a couple of injuries limited my sporting exploits and I replaced them with the usual student pastimes of drinking too much and eating too much rubbish food. Whilst preparing for my finals, I added energy drinks and caffeine pills to the concoction. End result: 3 stones of weight gain and a body I didn't recognise !
In my final year of university, I was applying for many of the usual graduate training schemes despite studying Sports Science and I remember my late father asking me: "Are you sure you'll be happy sitting behind a desk for the rest of your life, working for someone else?" Cue- light bulb moment number one: NO, I needed more variety. Lightbulb moment number two: Wouldn't it make sense to put the knowledge from my degree to use?
So, ironically, whilst my own health and well-being was going one way, I was looking into career options within the health, fitness and sport industry. I decided on Personal Training as I saw the potential to start my own business.
After finishing university, the realization struck that I wasn't quite in the shape that I would like. So I set to work to get back into shape whilst taking some further qualifications at "Personal Trainer School". It took me about nine months to undo the damage which coincided with my entering into employment in the fitness industry.
I spent several years gaining experience and what I found surprised me and disappointed me. I feel very strongly that both the mainstream fitness industry and the healthcare system are failing customers. The statistics speak for themselves.
In fact, many so-called health professionals are re-enforcing this by intimidating potential customers, making people feel guilty and by projecting unrealistic images and ideals of body-shape. Yes, they are achievable if you are prepared to dedicate your entire life to it. If that is what you want, fine, but if you are like me and have to balance work, family, and a social life, then a more realistic approach is needed.
This was a big driver for me in setting up Motus Training and creating a business that is focused on providing a service that helps real people achieve life changing results.
I'm now in my mid-30s and battling the lifestyle 'adjustments' that have to be made in order to run a business and do my best at being a Daddy. Let's just say the last few years have really helped me to understand my clients better!
That's my story - if it's time for you to change your lifestyle, I would love to hear yours.