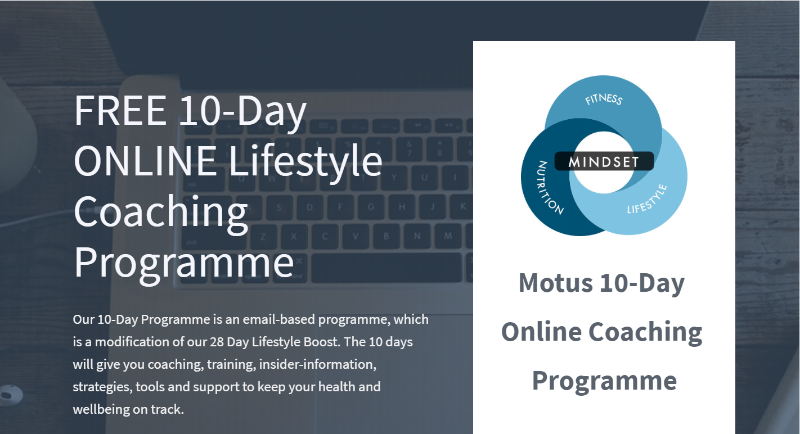 Hi all,
Those of you who were eagle-eyed may have noticed last week I hinted that we were working on some more FREE resources???
If so, you need to read on...
At the start of lockdown we delivered our Online 28 Day Lifestyle Boost Programme
And since then we've had emails and messages from people who were part of the group but
Didn't have enough time
Weren't able to fully commit
Were adjusting to home schooling
Or weren't ready to focus on their health
We understand
It's been a crazy 6 weeks...has it been 6 weeks? I lose track!
But more and more we're all starting to LOOK FORWARD
Get things BACK ON TRACK
So we've put together a
10 Day Course for you
Which contains all the best bits from the 28 Day Programme:
>Mindset Training Videos
>Mobility Workouts
>Strength Workouts
>Access to EXCLUSIVE Hints and Tips
PLUS A 121 Coaching session with a Motus Coach
This time it's all delivered via email, daily, straight to your INBOX
And it's FREE
If you saw my email
last Friday
, I did question whether FREE was the right thing to do
But it's up to you at the end of the day:
If you know you're someone who
won't commit when something's free
You can check out our
Online Lifestyle Coaching Programme M12
But if you just need a little HELP and STRUCTURE to get started
Or you want to get a taste of what it's like to work with us
To experience
✅ More
MOTIVATION
✅ More ENERGY
✅ Less STRESS and a
✅ More POSITIVE MINDSET
Then
SIGN UP
for our FREE 10 DAY PROGRAMME here:
https://motustraining.lpages.co/motus-online-10-day-programme/
Thanks
Darren