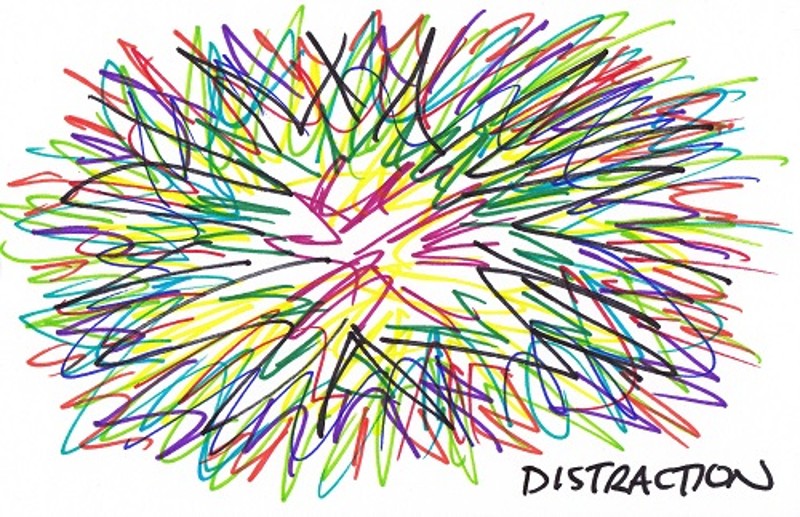 "Relax, Meriel, enjoy, stop second guessing yourself. All creative types require distractions, interruptions, and sometimes a little drama to get the most done and to blow the most minds. You are so where you need to be - The Universe."

I love my Notes from the Universe, they are very timely and insightful.
There's been a recurring theme in client conversations of late. It goes along the lines of -I haven't got one of those; I need one of those before I can move forward; not having one of those means I can't focus on the future; without one of those I don't have the money or time to have the holiday I've booked/time away etc. To paraphrase, there is a distraction coming up which we don't want because we are busy trying for sort or force something through beforehand.
Internally, we set an expectation or milestone, which then adds pressure to an already tense situation. An example: I'm going away for two weeks in a couple of weeks. I need a specific event to have occurred before I go away. If it doesn't happen, then I'll not enjoy my holiday and in fact I'll have to make time on my holiday to ensure it happens then.
The consequence is I'm no longer having a holiday. I'm not allowing myself a vital distraction, time to rest and replenish and to open my mind to other opportunities. By creating the unrealistic expectation, I put myself under pressure and miss the huge opportunity that the holiday presents. It's not only about rest and relaxation, it's the different thought patterns that emerge when you are rested or relaxed, which will never happen as a result. And which just might move you forward more quickly in the direction you wish to travel.
Distractions are great. If I try and sit and write a blog, and struggle, I get up and create a distraction. Chances are I'll observe or learn something in the distraction which will unblock me and help me write a more meaningful article. By removing the focus from what you can't do and focussing on something you can do instead, the mind is free to explore different opportunities.
So go on, get distracted!